If you are new at flipping homes, one area that often goes over looked is home staging. Using a free home staging checklist can help get your property ready for sale, especially if it is your first flip. For each room in the house, you need to make sure that you are presenting it in the best light possible. For your convience, we have put together a free home staging checklist.
Free Home Staging Checklist – The Exterior:
1: Clean the driveway and walkways (pressure washers work great)
2: Trim any bushes, trees, shrubs
3: Pull weeds, add black mulch to flower beds (inexpensive and looks great)
4: Paint the exterior if it is needed
5: Cut and edge the lawn
6: Clean all windows
Free Home Staging Checklist – The Interior:
1: Dust everything
2: Sweep and Mop or Vacuum
3: Remove any Large, non-furniture items or anything that may look like clutter
4: Paint if needed, choosing neutral colors
5: Bring in a few furniture pieces for show
Not every room is created equal when showing a property for sale. Concentrating on staging these rooms well will improve your results:
1: The Entry Room
This room is the first thing people see when they come inside the property. First impressions mean a lot. Remember, curb appeal helps properties sell, this is an extention of that curb appeal.
2: The Kitchen
Everyone loves a great kitchen. Even those who don't cook! A bright, open, airy feeling kitchen will really improve how the property shows.
3: Bathrooms
You want your bathrooms to be very clean and well lit. Spotless is a better word for clean in this situation. Add some clean towels and maybe light a scented candle. Be sure the tub is scrubbed and any and all tiles are clean. This is one room that must be clean.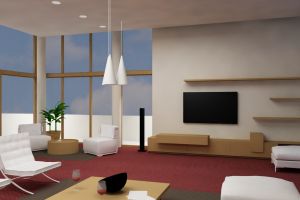 4: Living Room
The living room, den, family room, these rooms need to look great. Using neutral colors if you are paiting is a good idea. You want these rooms to feel inviting and cozy. Keeping the room as open as possible is also important, the larger these areas look, the better.
5: Bedrooms
Bedrooms are tough as you want them to look inviting, but you do not want them to be tailored to any one individual taste. Keep them neutral and open and well lit. You want to show there is room for the buyer to add their personal touch to what will become their intimate space. Try to create a blank canvas for your buyers to work with.
This is it in a nutshell, your free home staging checklist. Using this free home staging checklist should help you stay on task, and aid in deciding where to focus your attention. Remember, staging for sale is as important as every other step of the process, a well staged home will sell more quickly, and for more money. Good luck!